Christine Christian AO
Chair
Christine Christian is a company director, investor and entrepreneur with a 35-year career that spans financial services, investment, private equity, credit risk, Government and media.
Christine is the Chair of Auctus Investment Group Limited and currently holds non-executive director roles with Credit Clear Limited, MaxCap Group and Lonsec. She is a Board member of the State Library of Victoria, La Trobe University and Teach for Australia.
Previously, Christine was CEO of Dun & Bradstreet Australia and New Zealand from 1997 to 2011. In 2005, she was appointed to the additional roles of Chair of D&B Consumer Credit Services (JV between Dun & Bradstreet and Macquarie Bank) and the Dun & Bradstreet Worldwide Board, and in 2010 was appointed Executive Director of Dun & Bradstreet India. Dun & Bradstreet is the leading global provider of credit risk and business decisioning data for almost 200 years.
Previous directorships include as Chairman of Kirwood Capital and non-executive Director of ME Bank, the Victorian Managed Insurance Authority (VMIA), Scottish Pacific Business Finance and the ASIC Business Advisory Council. She was co-founder and Director of New York–based Powerlinx Inc., an innovator in the emerging partner economy and was Founding Chair of the Business Information Industry Association – Hong Kong and Middle East, and Director until 2012. Christine is a member and past-president of Chief Executive Women.
Ms. Christian was awarded a Medal of the Order of Australia in June 2020 in recognition of her distinguished service to the financial and investment sectors, to women in business, and through support for emerging entrepreneurs.
Brian Delaney
Non Executive Director
Mr Delaney has more than 35 years of funds management experience including his most recent role at the Queensland Investment Corporation (QIC) as an Executive Director of Strategy, Clients & Global Markets in Australia and the USA.
Mr Delaney is a graduate of the Harvard Business School Executive Education Program and a life member of the Association of Superannuation Funds (ASFA), as well as a Fellow of ASFA.
Mr Delaney serves as a Fellow of the Australian Institute of Company Directors, a Director of Lonsec Financial Group, a Director of the Trawalla Group and a Director of the Advisory Board of Qualitas. His previous director roles include Basketball Australia and Association of Superannuation Funds of Australia.
CAMPBELL MCCOMB
MANAGING DIRECTOR
Campbell has over 20 years funds management experience in Australia, the UK and Asia. He has established and successfully run several funds management companies.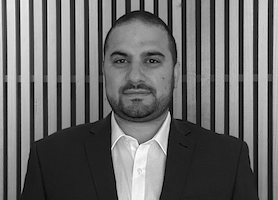 JUSTIN MOUCHACCA
CORPORATE SECRETARY
Justin is a highly experienced ASX-listed Company Secretary and Financial Officer. Principal of JM Corporate Services and currently Company Secretary and Financial Officer of several ASX listed companies. Justin is a Chartered Accountant and Fellow of the Governance Institute of Australia.