ABOUT US
Auctus Investment Group Limited (ASX: AVC) is an ASX-listed global investment manager with in-excess of A$533M Assets Under Management as at June 2023, net of A$117M returned to investors following successful exits.
We focus on opportunities across private equity, infrastructure and operating real-estate.
We invest in growth sectors with strong tailwinds and significant potential to scale. Auctus provides access to these private market investments for wholesale, family office and sophisticated investors
OUR STRATEGY
We provide access to a highly curated selection of private market investment opportunities.
We focus on value accretive opportunities that consistently deliver strong shareholder returns over the long term.
OUTCOMES
Opportunities where Auctus and co-investors can deploy between $20m – $100m
Private mid-market investment opportunities with strong management, a proven product, strong customer and revenue streams
Access to compelling opportunities not readily accessible to other investors
Quality opportunities as opposed to quantity of opportunities
CAMPBELL MCCOMB
MANAGING DIRECTOR
Campbell has over 20 years funds management experience in Australia, the UK and Asia. He has established and successfully run several funds management companies.
Michael Hynes
Executive Director
Michael has over 30 years' experience in Capital markets and is a known leader in Private Equity, Venture Capital and Corporate Finance across APAC – recognised for building trusted, long standing partnerships through a commitment to delivering best practice advisory services to help clients grow their businesses.
Laz Siapantas
Director – Auctus Asset Management
Laz has over 15 years' funds management experience in both onshore and offshore capital markets with a core focus on alternative investment distribution. His experience spans public and private markets and executive board roles.
Justine Wilkie
Director – Auctus Asset Management
Justine has over 14 years' experience within boutique and global funds management organisations spanning relationship and operational management, product development and investment structuring.
Geoff Koudelka
Head of Capital Markets
Over the last decade Geoff has worked in distribution in alternative investments, principally focussed on private markets opportunities in growth capital and real estate in both the United States and Australia. Prior to this Geoff spent his career in financial markets, working in institutional equity sales in both the U.K and Australia.
Kate Lambert
Investor Services Manager
Kate has over 8 years experience in financial services across private wealth management and industry superannuation, with a primary focus on managing partnerships and clients relationships.
Christine Christian AO
Chair
Christine Christian is a company director, investor and entrepreneur with a 35-year career that spans financial services, investment, private equity, credit risk, Government and media.
Ms Christian is Independent Chair of Tanarra Credit Partners and currently holds non-executive director roles with MaxCap Group, Selfwealth Ltd and Lonsec. She is President of the State Library of Victoria and Council member of La Trobe University.
Previously, Christine held a range of senior executive roles with Dun & Bradstreet, including as CEO of its Australia and New Zealand business from 1997 to 2011. In 2006, she was appointed to the additional roles of Chair of D&B Consumer Credit Services (JV between Dun & Bradstreet and Macquarie Bank), a member of the D&B Worldwide Board, and in 2010 was appointed Executive Director of Dun & Bradstreet India.
Christine is a member of the Australian Institute of Company Directors and member and past-president of Chief Executive Women.
In June 2020, Ms Christian was awarded an Officer of the Order of Australia in recognition of her distinguished service to the financial and investment sectors, to women in business, and through support for emerging entrepreneurs.
Brian Delaney
Non Executive Director
Mr Delaney has more than 35 years of global funds management experience across Strategy , M&A and Business Development with a focus across Private Equity, Infrastructure, Real Estate and Listed Markets.
His most recent executive role was at the Queensland Investment Corporation (QIC) as an Executive Director of Strategy, Clients & Global Markets in Australia and as the Managing Director of the US business located in Los Angeles.
Mr Delaney is a graduate of the Harvard Business School Executive Education Program, a life member of the Association of Superannuation Funds (ASFA), as well as a Fellow of ASFA and a Fellow of the Australian institute of Company Directors (AICD).
Mr Delaney serves as a Director of the Trawalla Group , Armitage and Assoc , Qualitas ( QAL ) as well as the Chair of the Fund Executives Association Limited (FEAL).
His previous director roles include Basketball Australia and Lonsec Financial Group.
CAMPBELL MCCOMB
MANAGING DIRECTOR
Campbell has over 20 years funds management experience in Australia, the UK and Asia. He has established and successfully run several funds management companies.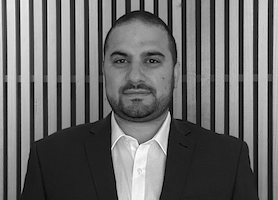 JUSTIN MOUCHACCA
CORPORATE SECRETARY
Justin is a highly experienced ASX-listed Company Secretary and Financial Officer. Principal of JM Corporate Services and currently Company Secretary and Financial Officer of several ASX listed companies. Justin is a Chartered Accountant and Fellow of the Governance Institute of Australia.
Scout Ventures of New York is an early-stage venture capital firm that is making the world a better, safer place by cultivating standout frontier technologies built by hard-to-access founders. Scout provides Auctus investors proprietary access to later stage companies out of their existing portfolio as well as direct access to their broader diversified early-stage funds.
Student Quarters is a specialist student housing asset manager with a demonstrated track record of value generation and execution. The team has completed over 56 student housing deals with a total transaction value in excess of $1.4 billion. Student Quarters' in-depth knowledge of the student housing market, end to end platform, relationships across the sector and confirmed deal flow provides them a unique competitive advantage.
Impact IP is an investment manager focussed on identifying and building essential infrastructure and social infrastructure assets in and for Indigenous communities through their Community-Led Infrastructure Model.
In 2019, Auctus raised its first fund to acquire a minority stake in Unite Us. Unite Us is a healthcare technology platform that aligns health and social care providers, thereby allowing them to communicate and track patient outcomes together.
Auctus, together with our US based subsidiary RBP Partners, raised a $50M fund to acquire a major stake in esVolta, LP. esVolta is a leading energy storage company focused on the development and acquisition of large-scale battery storage projects for utility customers in North America.
Auctus raised its third fund to provide Australian investors with an exposure to Scout Ventures Fund III. Scout Ventures is a US based, early-stage venture capital firm, that is making the world a better, safer place by cultivating standout frontier technologies built by hard-to-access founders.
Auctus and Student Quarters jointly manage a growing portfolio of US based student housing assets targeting opportunistic, core-plus and value-add properties, which was listed on the ASX in March 2022 (ASX:USQ)
In 2021, Auctus raised a fund to acquire a $50M equity stake in Australia and New Zealand's largest private, family owned, omni-channel pet specialty retailer PETstock
In late 2021 and early 2022, Auctus raised a Fund to acquire an ~$85M stake in Lux Group which owns Luxury Escapes, one of the fastest growing travel companies worldwide
Auctus manage a growing portfolio of US based late-stage private equity and pre-IPO opportunities. US Opportunities (USO) is a Company with $65M in net assets providing unique, hard-to-access private market investments sourced through Auctus' trusted US partners
If you'd like further information about our company or if you are seeking investment for your business please contact us using the form below. Please be sure to attach your executive summary in Word or PDF format.
Melbourne Office:
Level 23, 101 Collins Street
Melbourne VIC 3000

03 9959 9888