ABOUT US
Auctus Investment Group Limited (ASX: AVC) is an ASX-listed global investment manager
We focus on opportunities across private equity, infrastructure and private real estate.
We invest in growth sectors with strong tailwinds and significant potential to scale. Auctus provides access to these private market investments for wholesale, family office and sophisticated investors
OUR STRATEGY
We have access to unique investment opportunities via our proprietary networks and joint venture partners
We focus on essential sectors such as healthcare, education, energy infrastructure and real estate.
OUTCOMES
Investments where Auctus and co-investors can deploy between $10m – $50m
Private mid-market investment opportunities with strong management, a proven product, strong customer and revenue streams
Access to niche opportunities not readily accessible to sophisticated investors
Quality opportunities as opposed to quantity of opportunities
Campbell McComb
Managing director
Campbell has over 20 years funds management experience in Australia, the UK and Asia. He has established and successfully run several funds management companies.
Michael Hynes
Executive Director
Michael has over 30 years' experience in Capital markets and is a known leader in Private Equity, Venture Capital and Corporate Finance across APAC – recognised for building trusted, long standing partnerships through a commitment to delivering best practice advisory services to help clients grow their businesses.
Laz Siapantas
Director – Auctus Asset Management
Laz has over 15 years' funds management experience in both onshore and offshore capital markets with a core focus on alternative investment distribution. His experience spans public and private markets and executive board roles.
Mo Ajjaoui
Investment Manager
Mo has a wealth of industry experience from over 10 years in energy and funds management in Australia and the USA. Mo brings investment strategy, commercial analysis and complex financial modelling capabilities to the team.
Justine Wilkie
Director – Auctus Asset Management
Justine has over 14 years' experience within boutique and global funds management organisations spanning relationship and operational management, product development and investment structuring.
Geoff Koudelka
Head of Capital Markets
Over the last decade Geoff has worked in distribution in alternative investments, principally focussed on private markets opportunities in growth capital and real estate in both the United States and Australia. Prior to this Geoff spent his career in financial markets, working in institutional equity sales in both the U.K and Australia.
Sam Espie
Capital Markets
Sam has spent a decade in private markets funds management principally focused on distribution. Prior to this he spent his career in financial markets, working in trading, corporate finance and private wealth roles across public debt and equity markets. His capital raising network is focused on wholesale, high net worth and family office clients.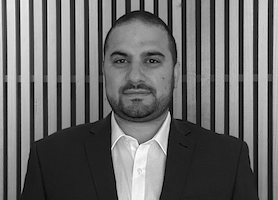 Justin Mouchacca
Corporate Secretary
Justin is a highly experienced ASX-listed Company Secretary and Financial Officer. Principal of JM Corporate Services and currently Company Secretary and Financial Officer of several ASX listed companies. Justin is a Chartered Accountant and Fellow of the Governance Institute of Australia.
Kate Lambert
Investor Services Manager
Kate has over 8 years experience in financial services across private wealth management and industry superannuation, with a primary focus on managing partnerships and clients relationships.
Partners
Through our carefully chosen partnerships we can access companies working right at the frontiers of technological development and the cutting-edge services, products, hardware and software they are developing.
Portfolio
We identify exceptional talent, teams and businesses, to help them grow through focused investments, hands-on management assistance and advisory, cross-sharing of experiences and know-how. A selection of our investments is shown below:
In 2019, Auctus raised its first fund to acquire a minority stake in Unite Us. Unite Us is a healthcare technology platform that aligns health and social care providers, thereby allowing them to communicate and track patient outcomes together.
Auctus, together with our US based subsidiary RBP Partners, raised a $50M fund to acquire a major stake in esVolta, LP. esVolta is a leading energy storage company focused on the development and acquisition of large-scale battery storage projects for utility customers in North America.
Auctus raised its third fund to provide Australian investors with an exposure to Scout Ventures Fund III. Scout Ventures is a US based, early-stage venture capital firm, that is making the world a better, safer place by cultivating standout frontier technologies built by hard-to-access founders.
Auctus and Student Quarters jointly manage a growing portfolio of US based student housing assets targeting opportunistic, core-plus and value-add properties, which was listed on the ASX in March 2022 (ASX:USQ)
In 2021, Auctus raised a fund to acquire a $50M equity stake in Australia and New Zealand's largest private, family owned, omni-channel pet specialty retailer PETstock
In December quarter 2021, Auctus raised a Fund and has now acquired a $70+ million stake in Lux Group which owns Luxury Escapes, one of the fastest growing travel companies worldwide
SCOUT VC'S UNIQUE & HARD TO ACCESS INVESTMENTS
This video by Scout Ventures, our US early-stage VC partner, showcases their unique access to advanced, dual-use technologies built by hard-to-access founders exiting the military, intelligence community, and premier research labs. It includes commentary from Unite Us Inc, Auctus' first stand alone Fund investment, and also a portfolio company in our US Opportunities Limited strategy.
Unite Us acquires analytics leader Carrot Health
Auctus portfolio company Unite Us, has announced the acquisition of Carrot Health, a premier US action-oriented health analytics company focused on removing barriers to health and optimizing care. Across all 50 US states, the two fastest growing companies in the industry now bring the only solution that can proactively identify and engage with clients across the community, and ensure they receive services from a secure coordinated network of thousands of community-based organizations.
Unite Us Announces It Has Raised $150M to Scale Nationwide Social Care Infrastructure
Auctus are pleased to inform investors that Unite Us closed a Series C funding round at a post-money valuation of US$1.65 billion with an additional US$150 million investment into the business led by ICONIQ Growth
Read More
Looking for an equity partner in your business?
If you'd like further information about our company or if you are seeking investment for your business please contact us using the form below. Please be sure to attach your executive summary in Word or PDF format.
Melbourne Office: Level 7 90 Collins Street Melbourne VIC 3000